By Maura R. O'Connor. Excerpted from The New York World.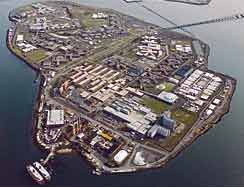 Last summer, a 25-year-old robbery suspect at Rikers Island took a ball of concentrated soap meant to clean his jail cell and swallowed it. Jason Echeverria had been held for two months inside the Department of Correction's Mental Health Assessment Unit for Infracted Inmates, where the confined typically spend 23 hours a day on lockdown. By swallowing the soap, Echeverria hoped to spring himself from his confinement; instead, for 20 minutes a corrections supervisor ignored his condition as he became violently sick and eventually died from the poisoning. The city's medical examiner has found that the lack of immediate medical treatment constituted a homicide.
While Echeverria was being held in punitive segregation, New York City Department of Correction Commissioner Dora Schriro was assuring the city's Board of Correction, which monitors her agency, that a long-awaited blueprint for dealing with the growing ranks of mentally ill at Rikers was nearing completion.
The study, undertaken by the well-respected Council on State Governments in conjunction with a special task force convened by the Mayor's Office, set out to remedy one of the most disturbing trends facing the city's jail system. Even as New York City's jail population reaches historic lows, the number of mentally ill people in jails has ballooned, turning Rikers Island into a virtual psychiatric ward run by the Department of Correction. Today a record one in three residents at Rikers has some form of mental illness — more than 4,000 at a given time and a population up 26 percent since 2005.
The Department of Correction reports that the mentally ill at Rikers Island are involved in at least half of all jail incidents, including assaults on corrections officers. Its response has been to crack down hard on infractions and increase the number of punitive segregation beds. Since she became commissioner in 2009, Schriro has overseen the largest increases in punitive segregation units in the department's history, spurring a rate of solitary confinement among the jail population that is projected to reach five times the national average this year. Punitive segregation for the mentally ill is also increasing. Rikers now has hundreds of designated cells, including the one where Echevarria died. In 1990, the jail had just a dozen.
Conditions are so severe that even the medical director at Rikers for Department of Health and Mental Hygiene has felt compelled to speak out. During a Board of Correction meeting last year, Dr. Homer Venters called the segregation units "parking lots for people with mental illness" and described the Rikers mental health segregation unit as "a complete failure in meeting the needs of patients and the needs of DOC."
Read the rest of the article on The New York World.