By Shawn Smith. Reprinted from Solitary Watch.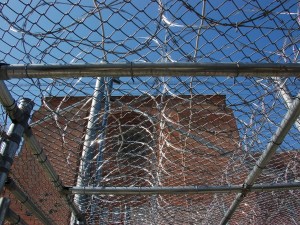 The following essay is by Shawn Smith, who is serving time for drug sales and assault in New York. He is one of some 4,500 individuals currently being held in isolated confinement in the state's prison system. In a letter to Solitary Watch, he writes "I'm so lonely that I dream of human contact with the outside world…and I was hoping that you could find it in your heart to embrace me as a friend and help me get my essay up on your website. So that people can become aware of the levels of injustices and sorrow that has been bestowed upon me involving my solitary confinement experience…I feel so hopeless that I've spilled out my heart into this essay and I'm sending it to you in hopes that some change can come to me from it."  Shawn Smith's mailing address is #07A1605, Elmira Correctional Facility, P.O. Box 500, Elmira, New York 14901-0500. –James Ridgeway
.  .  .  .  .  .  .  .  .  .  .  .
Four walls! A ceiling! And a floor eight by ten feet in dimension! In my eyes, this is the worst torture device in the history of the universe! Within this small enclave many men have fallen apart and broken down mentally into a deep stage of sorrow. That has made us (myself included) drop to our knees with lakes of tears under our eyes that cascade down our face. As we ask God "Why me? Why must I suffer this unbearable pain and burden?"
This place has made me feel so hopeless that I've dosed on pills two times and was rushed to the hospital where they pumped my stomach clean of the many painkillers and anti-depression pills that I digested in hopes of going to a better place! I've hung up with a self-made noose and sliced my wrist, because this place has driven me to the brink of insanity and I felt like I would rather be dead than live like a dog in a cage at the unwanted animal shelter.
In this place, I've lost and found my sanity time and time again. What really shook me up and made me find the inner strength to fight for the willpower to want to live my life and fight to survive in this place was when I saw the COs carry a friend I made in the brother in the cell next-door to me away in a black bag!