By William Blake. Reprinted from Solitary Watch.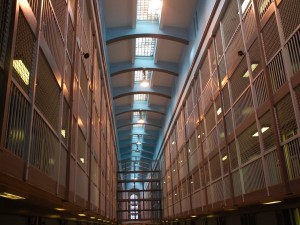 The following essay is by William Blake, who has been held in solitary confinement in the New York State prison system for close to 26 years. Currently he is in administrative segregation at Elmira Correctional Facility, a maximum security facility located in south central New York State. In 1987, Blake, then 23 and in county court on a drug charge, murdered one deputy and wounded another in a failed escape attempt. Sentenced to 77 years to life, Blake has no chance of ever leaving prison alive, and almost no chance of ever leaving solitary—-a fate he considers  "a sentence worse than death."
This powerful essay earned Blake an Honorable Mention in the Yale Law Journal's Prison Law Writing Contest. Chosen from more than 1,500 entries, it will be published in the Journal this spring. He describes here in painstaking detail his excruciating experiences over the last quarter-century. "I've read of the studies done regarding the effects of long-term isolation in solitary confinement on inmates, seen how researchers say it can ruin a man's mind, and I've watched with my own eyes the slow descent of sane men into madness—sometimes not so slow," Blake writes. "What I've never seen the experts write about, though, is what year after year of abject isolation can do to that immaterial part in our middle where hopes survive or die and the spirit resides." That is what Blake himself seeks to convey in his essay. —Lisa Dawson
.  .  .  .  .  .  .  .  .  .  .  .  .
"You deserve an eternity in hell," Onondaga County Supreme Court judge Kevin Mulroy told me from his bench as I stood before him for sentencing on July 10, 1987. Apparently he had the idea that God was not the only one justified to make such judgment calls.
Judge Mulroy wanted to "pump six buck's worth of electricity into [my] body," he also said, though I suggest that it wouldn't have taken six cent's worth to get me good and dead. He must have wanted to reduce me and The Chair to a pile of ashes. My "friend" Governor Mario Cuomo wouldn't allow him to do that, though, the judge went on, bemoaning New York State's lack of a death statute due to the then-Governor's repeated vetoes of death penalty bills that had been approved by the state legislature. Governor Cuomo's publicly expressed dudgeon over being called a friend of mine by Judge Mulroy was understandable, given the crimes that I had just been convicted of committing. I didn't care much for him either, truth be told. He built too many new prisons in my opinion, and cut academic and vocational programs in the prisons already standing.