By Aviva Stahl. Reprinted from Solitary Watch.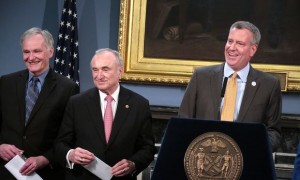 In March, New York City Mayor Bill de Blasio appointed reformer Joseph Ponte as the Commissioner of the Department of Correction. In his last post, overseeing Maine's Department of Corrections, Ponte gained particular renown for reducing the use of solitary confinement by over 60 percent. In fact, the changes he helped bring about in Maine will be a central element of a new Frontline documentary, entitled Solitary Nation, due to air tonight on PBS.
Given the rapid increase in the use of solitary confinement on Rikers Island in recent years – and the vocal community opposition to the practice — DeBlasio's decision seems a timely one. But his appointment has been met with controversy, sparking outrage amongst the City's correctional officers' union. And a more detailed look at Ponte's tenure in Maine reveals that even the most open-minded of institutional insiders have their limits when it comes to real change.
Joseph Ponte first began working in prisons as a guard at the age of 22. In the 45 years since, Ponte has served in institutions across the country, including Walpole State Prison near Boston and the Shelby County Jail in Memphis.  He was even previously employed by the Correctional Corporations of America (CCA), a company that has gained notoriety for turning a profit by locking people up.
Although Ponte has been credited with turning around several institutions, he is best known for the reforms he instituted in Maine. As was recently reported by The New York Times, "Within months of arriving [in Maine], Mr. Ponte cut the population in solitary confinement at Maine State Prison from about 100 to fewer than 50 and the average stay there from 90 days to two weeks."  He mandated that inmates not be placed in isolation for more than 72 hours without his personal approval and even abolished disciplinary segregation – requiring corrections staff to use "informal sanctions" like taking away recreation rather than throwing noncompliant individuals in "the hole."
While at the helm of Maine's Department of Corrections, Ponte also drastically reduced the state's use of "cell extractions." "Disobedient" men in isolation had previously been dragged out of their cell with pepper spray, beaten and tied down for hours, as captured on film in a 2005 expose.Ponte almost completely abolished the practice of placing adolescents in solitary.  He also garnered praise for allowing prisoner advocates and the media into Maine's prisons, and enabling them to speak to incarcerated individuals without corrections officers present.
Ponte's reputation for sharply reducing the use of solitary confinement has provided hope to the prison activists and advocates who have been working to change conditions on Rikers Island. Megan Crowe-Rothstein is a member of the Jails Action Coalition (JAC), a group campaigning to promote human rights inside New York City's jails.  She told Solitary Watch, "The appointment of Commissioner Ponte is exciting because it shows that our city government understands the need to address the widespread use of this brutal practice [solitary confinement] in our jails."
In an e-mail to Solitary Watch, Dr. Bobby Cohen said, "As a member of the Board of Correction (BOC) and as citizen of NYC I am very hopeful that Commissioner Ponte's appointment signals a substantial change from the policies of the Bloomberg administration." The BOC oversees the city's correctional facilities to ensure compliance with minimum standards of care.
Not everyone is so happy with Ponte's appointment, however, particularly not the man who heads up New York's union for prison guards, the Correction Officers' Benevolent Association (COBA).  A few weeks after Ponte's appointment, President Norman Seabrook held a press conference to criticize the incoming commissioner.  He lambasted what he termed Ponte's "claim to fame in Maine" – abolishing the use of solitary as punishment for disciplinary infractions.  "Punitive segregation is an effective tool that works." He added, "We don't need a reformer… We need law and order. We don't need someone to come in here and tell us, 'Well, this is how we do it in Maine.' Well, guess what, welcome to New York City. This is not Maine.
Ponte is no stranger to fighting the unions to implement his reforms; when he was in Maine the CO union staunchly opposed his efforts. As Solitary Watch documented in an article published last year, union opposition to reducing the use of solitary confinement is actually a common trend across the nation.
Several prison activists and formerly incarcerated individuals in Maine have critiqued Ponte from a different angle. Although all praised Ponte for the changes he instituted and for his willingness to meet with them and other Maine DOC critics, they also stated that Ponte's tenure was far from perfect, and his reforms remain incomplete.