The goal of the Campaign for Alternatives to Isolated Confinement (CAIC) is sweeping reform of New York's use of solitary confinement and other forms of extreme isolation in state prisons and local jails.

Isolated confinement involves confining people in a cell for 22 to 24 hours a day without meaningful human contact, programming, or therapy. This practice is ineffective, counterproductive, unsafe, and inhumane, and it causes people detained in these conditions to deteriorate psychologically, physically, and socially. Despite these facts, New York utilizes isolated confinement at rates well above the national average.


UPCOMING EVENTS AND ACTIONS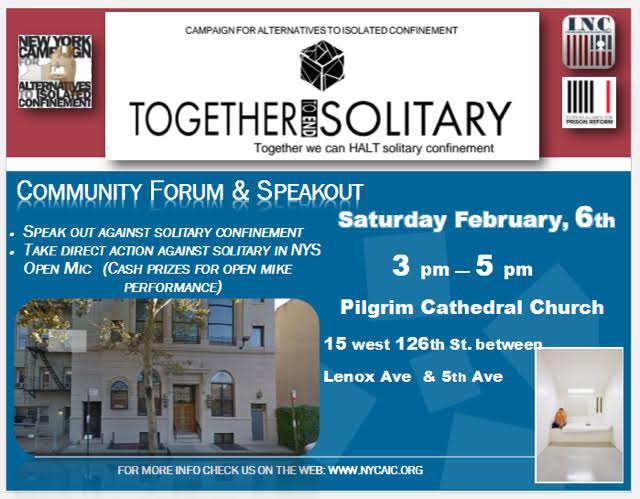 For additional events and actions, please see our Events page.

INFORMATION SESSION FOR NEW AND PROSPECTIVE MEMBERS -- JANUARY 25: 6-8 pm, Urban Justice Center, 40 Rector Street, 9th floor, NYC. Will provide interested individuals with a space to learn about CAIC's work and how they can get involved in the fight to end solitary confinement in New York jails and prisons. RSVP by e-mail to btaylor@urbanjustice.org by January 22nd (not required to attend the event).

TOGETHER TO END SOLITARY ACTIONS -- FEBRUARY 23: Please see our Events page for details. Join us on the 23rd of every month in the struggle to end solitary confinement (in recognition of the 23 hours or more per day that people spend in solitary). If you are planning an event, please email: spaltrowitz@correctionalassociation.org. Also, on the 23rd, call Gov. Cuomo (518-474-8390) to ask that he end the torture of solitary confinement in NY, and call your Senate and Assembly Reps and ask them to co-sponsor the HALT Solitary Confinement Act, A. 4401 / S. 2659.

ADVOCACY DAY IN ALBANY -- APRIL 12: Please mark your calendars and SAVE THE DATE! People from around the state will be converging on Albany for CAIC's third annual Advocacy Day to push for the passage of the HALT Solitary Confinement Act, A. 4401/ S. 2659. We hope you will join us and please spread the word! More details to come.


NEWS AND VIEWS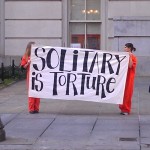 On January 27, the New York Campaign for Alternatives to Isolated Confinement issued the following statement on President Obama's executive actions to restrict solitary confinement. President Obama has joined the growing chorus of community leaders, incarcerated individuals and their families, medical professionals, scientists, legal scholars, advocates for human rights, and everyday people in calling solitary confinement what it […]