The goal of the Campaign for Alternatives to Isolated Confinement (CAIC) is sweeping reform of New York's use of solitary confinement and other forms of extreme isolation in state prisons and local jails. Currently, we are working toward passage of the Humane Alternative to Long-Term (HALT) Solitary Confinement Act in the New York State Legislature.

Isolated confinement involves confining people for 22 to 24 hours a day, without meaningful human contact, programming, or therapy, in cells smaller than the average parking space. This practice is ineffective, unsafe, and inhumane. It causes people detained in these conditions to deteriorate psychologically, physically, and also harms their families and communities.

Despite these facts, New York utilizes isolated confinement at rates well above the national average, with some 4,000 people in isolation in state prisons, and hundreds more in local jails. Although the UN has said that solitary confinement beyond 14 days can amount to torture, many individuals in New York remain in isolation for months, years, or even decades.


UPCOMING CAIC EVENTS AND ACTIONS
ACTIONS FOR THANKSGIVING 2017
This year, Thanksgiving falls on the 23rd of the month, when CAIC usually joins with anti-solitary activists across the country in actions to mark the 23 hours a day that people spend in solitary confinement. 
* Today, share what you know about the torture of solitary confinement with the people at your dinner table. So many people do not know what goes on behind prison walls. When they learn how solitary is used in this country, many are appalled. Grow the movement by starting the conversation today.
* If prayer is part of your Thanksgiving ritual, consider including this one, composed by members of CAIC's Buffalo/Western NY group:  "O God, you teach us to visit those in prison and to respect the dignity of every person; as we reflect on Thanksgiving, which falls this year on the twenty-third day of November, we give thanks for our blessings but we also think of the twenty-three hours every day that our brothers and sisters suffer in solitary confinement, in tiny concrete vaults, excluded from all human contact, for months or for years on end; and we ask you to infuse the citizens and leaders of our state and nation with the wisdom and passion to end the abuse of solitary confinement in our prisons; all this through your infinite mercy and compassion.  Amen."


THE CAIC BLOG: NEWS ON SOLITARY CONFINEMENT IN NEW YORK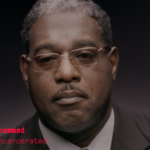 "We Are Witnesses" is a new series of short videos produced by The Marshall Project and The New Yorker, offering incredibly powerful testimony from 20 people whose lives have become enmeshed in the U.S. criminal system. Two of the videos feature CAIC members. One is about Alicia Barraza and Doug Van Zandt, whose son Ben committed suicide in […]