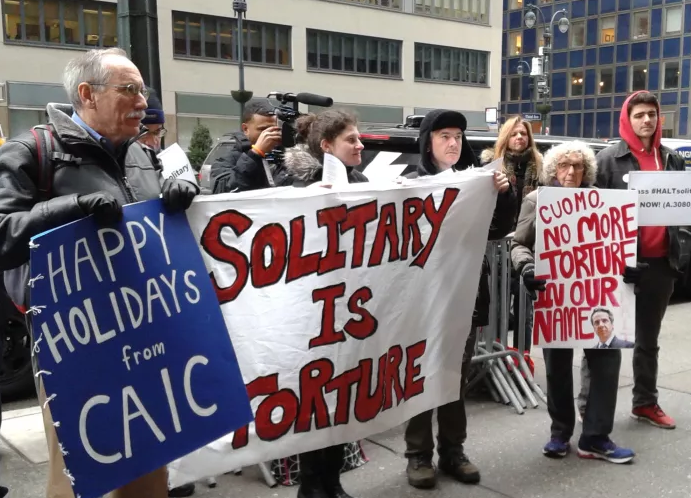 by Victoria Law. Excerpted from The Nation.
After being accused of cursing at a corrections officer, Jessica Concepcion, seven months pregnant, spent the Christmas of 2006 in solitary confinement at Bedford Hills, New York's maximum-security prison for women. Confined to her a cell for 23 consecutive hours, she had no opportunity for any human interaction, let alone a chance to wish her family a merry Christmas. "It was torture," she told me. "All you have is those walls to talk to. You don't have nothing else but those walls."
On Friday, December 22, Concepcion and her wife Xena Grandichelli, who has also spent time in solitary, joined over a dozen advocates outside Governor Andrew Cuomo's midtown office to sing Christmas carols. But they weren't simply spreading holiday cheer; they were urging him to pass the Humane Alternatives to Long Term (HALT) Solitary Confinement Act, which would limit time in isolation to 15 consecutive days and create alternatives for those who need longer periods of separation.
The protesters held aloft a 24-by-36 inch holiday card that invited the governor to spend 24 hours in solitary. The invitation may seem outrageous, but it's not unprecedented.
Read the full article at The Nation.